This site uses cookies, by continuing to use this site you are agreeing to their use. Learn More
crete again 1
Tuesday

4.4.17

Got up at 3.30 and walked down to the station. Matthew and the cats saw us off. Caught an earlier train than we intended arriving at Gatwick in overly good time and went through the usual rigmarole… Peter was picked upon and had to remove boots and contents of pockets; I sailed through. We bought some food for breakfast and lunch, which we ate en route. Came in to land at Crete through some low cloud. No trouble with customs and we soon boarded a coach which delivered us to the accommodation.

We are in the Metoche Family House which is very spacious with excellent views over Souda Bay. The owner called in to see us.

Grate by the front door

Zantedeschia in gardens all over the island

Kitchen

Terrace

First floor

Double bedroom

Back of the house

There was an introductory talk before supper at the tavern. Where we had a selection of appetizers followed by a main course of our choice. I had boureki a version with courgette and potato and feta. Peter had moussaka. The wine was distinctive, but benign so we did not have a hangover after drinking it. We walked up the hill to home and went straight to bed..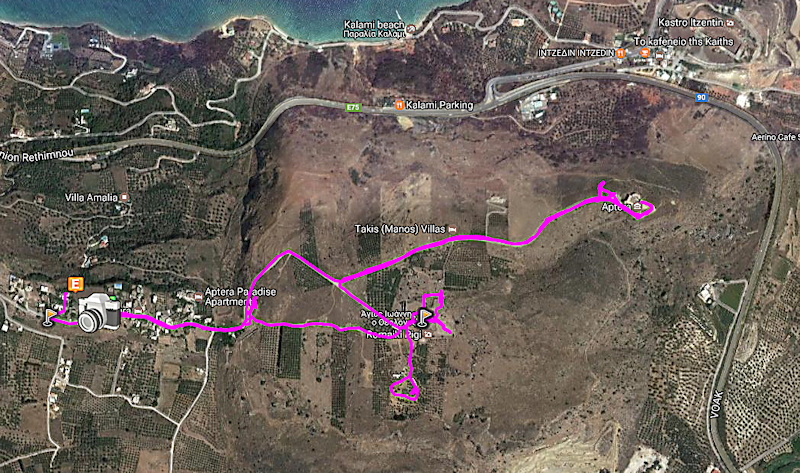 The logger shows our tracks on Wednesday from the Metoche Family House to Aptera Archaeological site
gps below shows points at which pictures were taken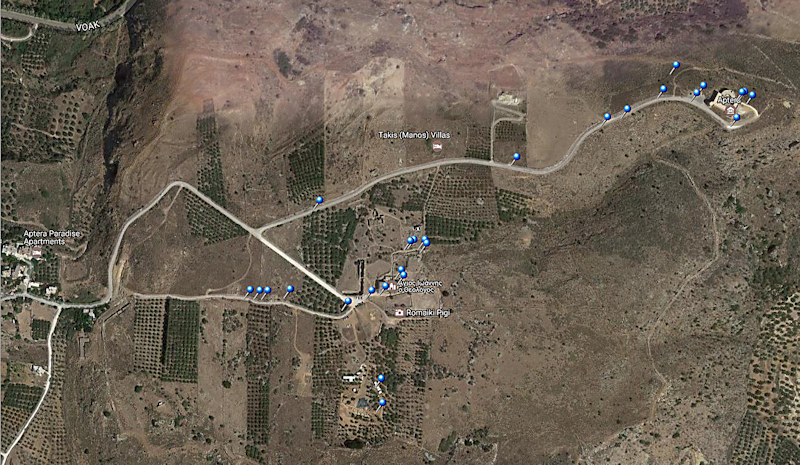 Wednesday

5.4.17

We had to put an extra blanket on the bed as it was cold in the early hours. Breakfast was difficult without a measuring jug or scales, but we managed. Peter went to the supermarket to stock up; not enough space in the mini buses to take us both. Still quite cool this morning. Made sandwiches for lunch and put away Peter's purchases and then waited with the group to set off for the ruins at Aptera botanising along the way. We had lunch in the ruins then walked slowly back seeing the theatre and the Turkish Fort.

View from the terrace in the morning it was hazy and still cold

We assembled by the bins photographing the plants in the verges

Oxalis pes-caprae

Chrysanthemum coronarium

the yellow form

Echium plantagineum

Pallensis spinosa

Malva sylvestris

Dimorphothica on the verge

New house behind the old one?

Vicia hybrida

Phlomis frutucosa

Papaver rhoeas

Tordylium apulum seeds

Urtica pilulifera

Bugs mating

Lygaeus saxatilis

Silybum marianum

Souda Bay

Adonis microcarpa

Souda Bay

Tragopogon sinuatus

Euphorbia helioscopia

Natural rock garden

Des res

Ranunculus asiaticus

Nepeta scordotis

Mainly viper's bugloss

Asphodelus aestivus

Verbascum

Borago officinalis

Vicia hybrida

Vicia hybrida

Italian wall lizard

Red Admiral - we did not see many butterflies and their posing was not the best

Galactites tomentosa

Aptera & the Gang

Natural herbaceous border

Turkish Fort

Verbascum macrurum

Panoramas from the ruins at Aptera - they do not enlarge

Roman vaulted cisterns

Theatre

Plantains

Almonds

Turkish Fort

Souda Bay

Turkish Fort

Turkish Fort

Roman wall

Turkish Fort

Souda Bay

Orobanche ramosa a blue and a pink form

Euphorbia dendroides

Gynandiris sisyrinchium flowers only last a day

Echium italicum

Ophrys cretica

Panoramas near the Turkish Fort - they do not enlarge

Pink tinged ranunculus asiaticus

Our house

Went home to relax before dinner. As it was Stephen's birthday there was a cake at the evening meal laid on by Pure Crete. There is also to be a special party on Saturday to celebrate the 25 years of the Crete in Bloom Holidays.